Winning start for New Zealand netballers in Birmingham
July 30, 2022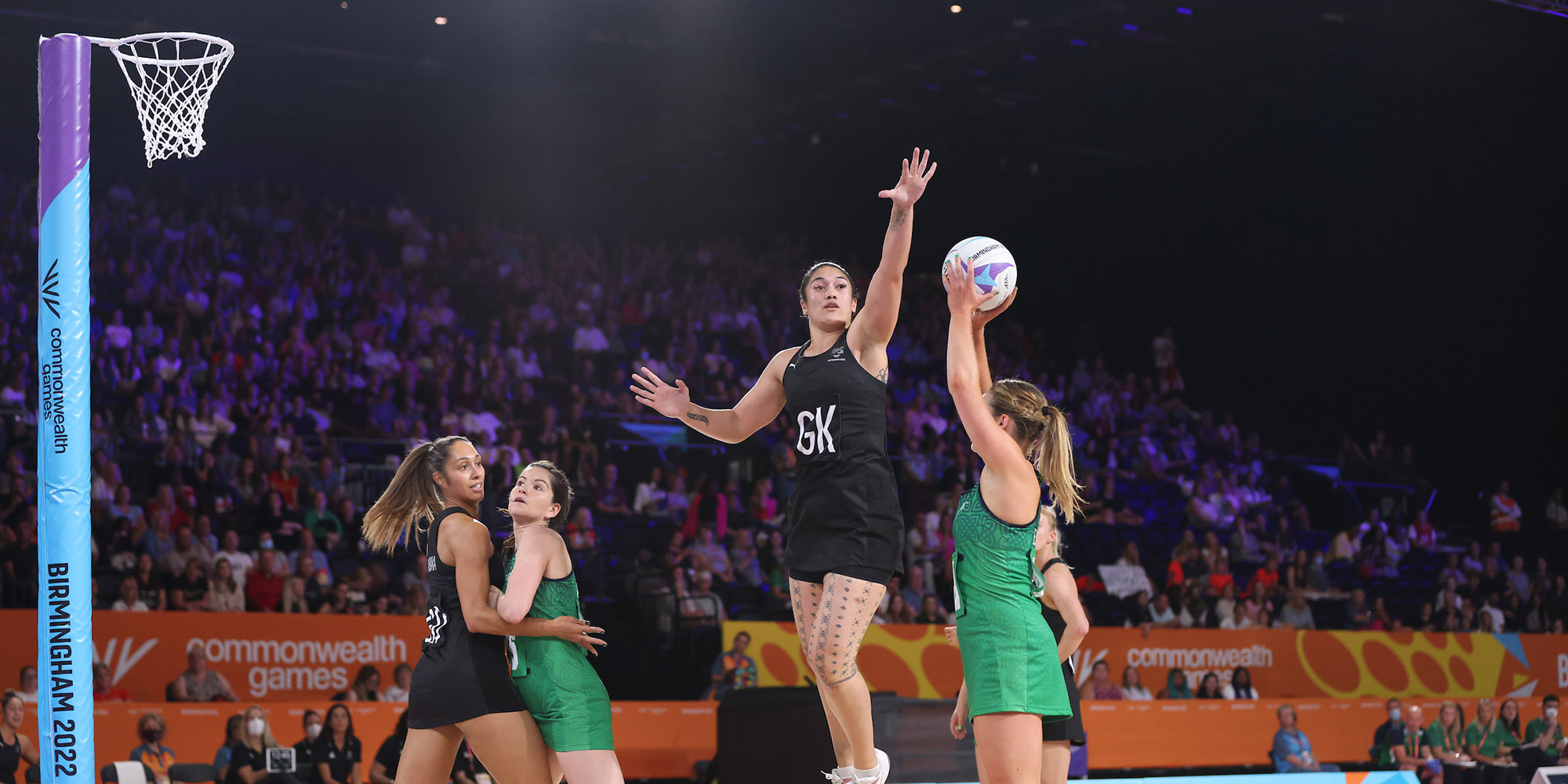 With all players getting valuable court minutes, the New Zealand netball team opened their Commonwealth Games campaign with a dominant 79-20 win over Northern Ireland in Birmingham.

Without showing their full hand, New Zealand made great use of the opportunity to engage four different combinations in each quarter allowing for player management in a tight schedule while also providing the chance of assessing a number of on-court options.

Having met Northern Ireland just once before, at the 2014 Commonwealth Games in Glasgow, New Zealand eclipsed that score of 78-29 with a commanding outing in the second meeting.

Blowing out the cobwebs after spending the preceding week in Colchester putting the finishing touches on their preparation, New Zealand kept on task throughout, a forceful second half completely shutting the door on Northern Ireland's limited chances.

In the final match of the opening day of the netball programme, the New Zealanders were quickly into their stride. Both ends of the court impressed while captain Gina Crampton was seamless from wing attack with her distribution skills to her shooting duo.

Towering shooter and youngest team member in the New Zealand colours, Grace Nweke made a confident start to nail 12 from 13 shots during the first quarter while being well-supported by Te Paea Selby-Rickit, who chimed in with a perfect six from six.

Despite the best efforts of centre and captain Caroline O'Hanlon, who was a shining light, Northern Ireland struggled with their shooting accuracy and had a big mountain to climb when the New Zealanders took an 18-4 lead into the first break.

New Zealand coach Dame Noeline Taurua made multiple changes on the resumption, with rangy wing defence Kate Heffernan becoming Silver Fern #182 as a new line-up continued to hold sway.

Northern Ireland had a tough time against an intimidating New Zealand defence line of Sulu Fitzpatrick and Kelly Jury but more movement and clever shooting from Emma Magee produced a more competitive second quarter.

Shooting at 91 percent accuracy, the New Zealanders kept the scoreboard ticking over to lead 33-11 at the main break while Northern Ireland weren't helped by a high penalty count.

There was no let-up from New Zealand during a dominant third quarter, keeping Northern Ireland scoreless for the first seven minutes while piling on 11 goals of their own.

There was more mixing and matching from New Zealand with Heffernan moving to centre and making the most of the opportunity with an eye-catching 15 minutes both on attack and defensively. She combined effectively with wing defence Kayla Johnson to add to a potent defence line.

The in-circle defensive pairing of Phoenix Karaka and Jury, who grabbed tree intercepts during her 30 minutes on court, were a menacing duo, restricting Northern Ireland to just five goals for the quarter while Nweke and Maia Wilson, at goal attack, delivered a productive partnership under the hoop to push New Zealand out to a commanding 57-16 lead at the last break.

The New Zealanders meet Uganda in their second match of pool play tomorrow (Sunday, 7am, NZ time).